I am oh-so proud that after a year and a half, I have 200 posts already! Yey me. I never thought I'd come this far because I don't really get to update much ever since the school year started. But, I did try though. So now, my goal will be to make it to my 500th post within May of next year. It'll be my blog's second anniversary.
So my 200th post is going to be all about
CSI LAS VEGAS

!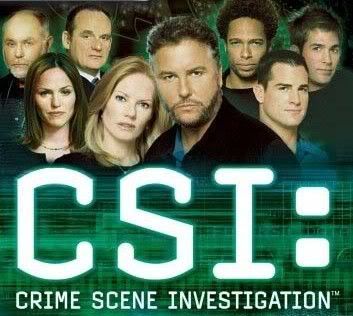 I picked this special topic to be my 200th post for one reason:
I AM IN LOVE WITH IT.
Call me crazy, but I just love the show. I could spend hours watching than doing anything else. And all the scientific stuff and the solving mysteries stuff really amazes me. I watched an episode the other day,(Season5, if I'm not mistaken) the opening of the episode was this girl who was being chased and she was in her underwear. It was so cool and so they tried to solve the case and it turns out the suspect had chimera! Chimera is a disease where you have 2 DNAs. It was so cool. I never would have expected it. Watching CSI makes me aware that there are crimes that occur in our world. After all, according to Darwin's Natural Selection, Survival of the Fittest.

CSI Las Vegas makes me think and makes me enjoy at the same time. It has drama, fun and laughter. I'm gonna confess now. I don't like other CSIs like Miami or New York. They're just boring. They don't have interesting cases which you can cry on or even be amused.

Another PLUS for CSI Las Vegas: THEY HAVE THE HOTTEST GUYS.

NUMERO UNO: WARRICK BROWN(Gary Dourdan)


So cool, intense. Hot. Intelligent.

Second: Greg Sanders(Eric Szmanda)


He is so cute. HAHAHA

Third: Nick Stokes(George Eads)


HOT. Hello muscles. HAHAHAA

Let's not forget William Petersen who stars as Gil Grissom. I swear he has the most beautiful eyes in the world, next to Warrick Brown of course.

Need I say more about CSI Las Vegas? Let's all watch those CSIs in action!

♥